T

HE
6th BSBP is in full swing, sign ups have been closed partners have been assigned, the bead soups should all have been sent out. I know mine is not going to arrive for a while yet, as my partner
Susan
lives in the US, plus she was on vacation during the time the beads were supposed to be sent out and was kind enough to let me know mine would be a little late as she wanted to make some beads just for me and not rush things.
Make some beads?
But why of course, Susan creates the most gorgeous lampwork and enamelled beads ever, just take a look at her Etsy shop,
SueBeads
. Can I please have them all? Seriously, I feel I have hit the proverbial jackpot here, I only hope I'll be able to do her beautiful creations justice.
I doubt she's going to have any trouble tackling what I sent her – if you take a look at her blog
Sue Beads
, you'll notice she apparently does beading challenges for breakfast, lunch and dinner, and she is doing marvelous at it.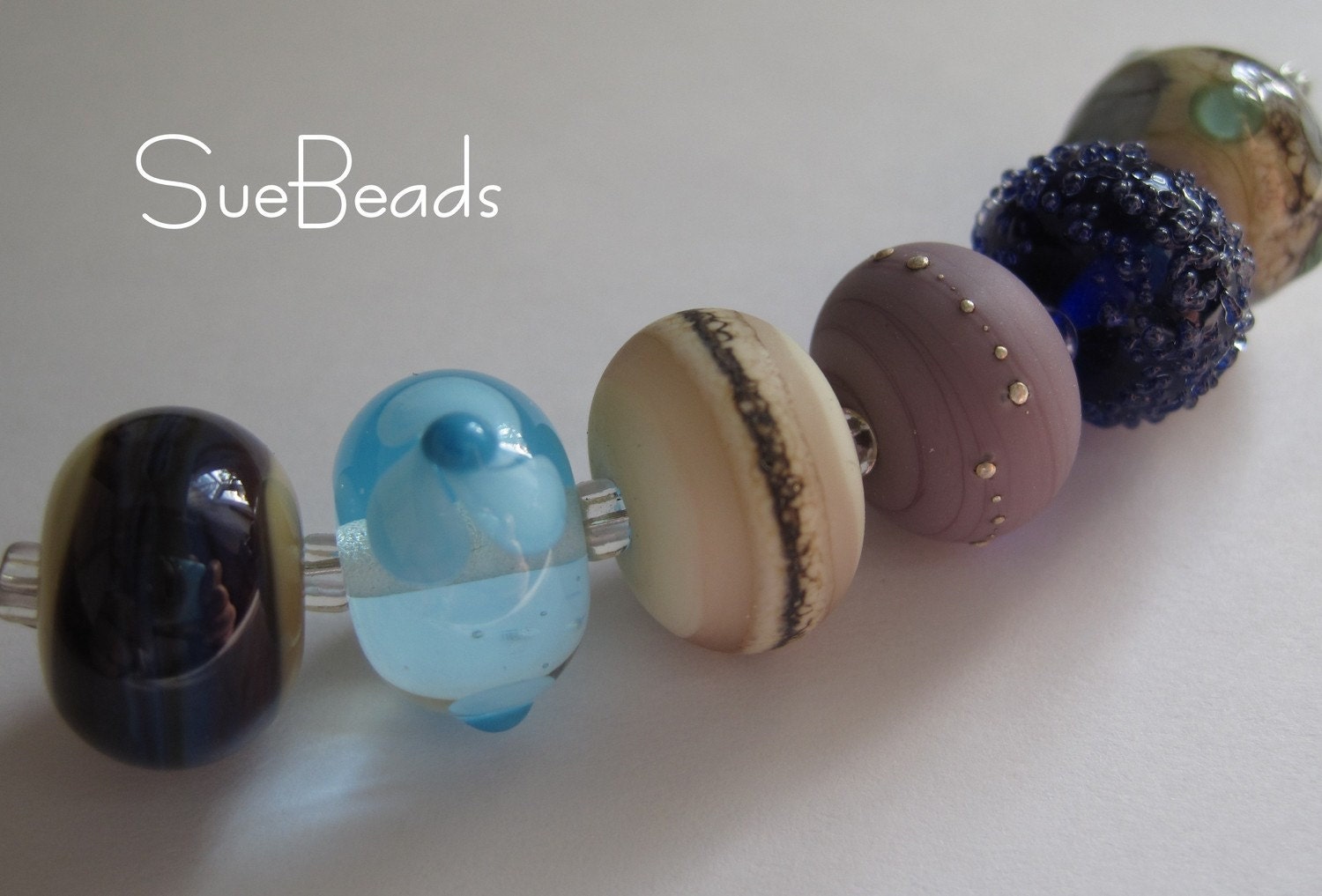 Some of Sue's gorgeous lampwork beads
Ein paar von Sues wunderschönen Wickelperlen
D

IE
6te BSBP ist in vollem Gange, die Anmeldeperiode ist vorbei, die Partner wurden zugeteilt, und die Perlsuppen
sollten
alle verschickt worden sein. Ich weiß dass meine erst in zwei bis drei Wochen eintrudeln wird, da meine Partnerin
Susan
in den USA lebt, und zudem zum Perlenverschickdatum im Urlaub war. Freundlicherweise lies sie mich wissen dass sich meine Perlsuppe verspäten würde, da sie ein paar Perlen nur für mich machen wolle und sich dafür auch Zeit nehmen und nichts übereilen.
Perlen machen?
Aber sicher doch, Susan kreiert die schönsten Wickel- und Emailperlen die Euer Auge je erblickt hat, schaut doch einfach mal in ihren
Etsy shop,
SueBeads
, hinein. Kann ich das haben, alles büdde? Ernsthaft, ich komm mir vor als hab ich das ganz große Glückslos gezogen, ich hoffe nur dass ich ihren wunderschönen Perlen auch gerecht werden kann.
Anders herum hab ich da überhaupt keine Bedenken – wenn Ihr mal einen Blick in ihr Blog
Sue Beads
werft, werded Ihr sehen dass sie Perlwettbewerbe anscheinend zum Frühstück, Mittag- und Abendessen verspeist, mit wunderschönen Resultaten.
Teaser: What can I possibly have sent her ...
Teaser: Was könnte ich ihr wohl geschickt haben ...